Thanks for printing! Don't forget to come back to Zerorez San Antonio for fresh content!

A Smarter, Lasting Clean™

Without residue that attracts dirt, your home stays cleaner, longer.

Traditional carpet cleaners use harsh chemicals and soaps that leave behind residue, attracting dirt over time—the opposite of what you want after a cleaning.

Our patented technology cleans with Zr Water®, an all-natural, high alkaline cleaning fluid that is non-toxic, and safe enough to drink. But as a cleaning fluid, it breaks up grease, neutralizes odors, and helps remove stains and dirty substances, keeping your carpets softer and cleaner for longer.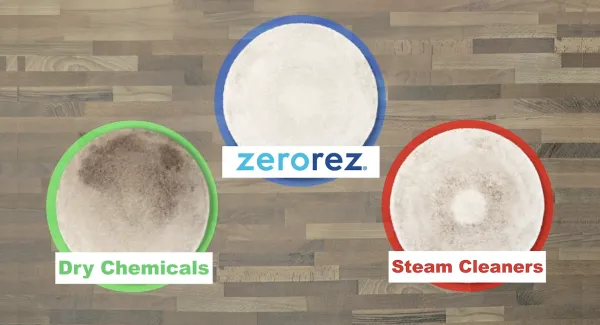 Experts in the Science of Clean
Our Zerorez technologies clean with Zr Water® - an all-natural, high alkaline, non-toxic cleaning fluid. It cleans like detergent but is safe enough to drink. Its scientifically altered molecular structure breaks down dirt, grease, and odor-producing substances. Zr Water™ replaces the need for harmful soaps or detergents that most traditional cleaners use. Without soapy residue bonding to carpet fibers attracting dust and dirt over time, your carpets dry faster and stay cleaner longer.
Get your free estimate in less than 2 minutes.
Upholstery Cleaning San Antonio, TX
Zerorez® San Antonio offers state-of-the-art upholstery cleaning methods that use only eco-friendly products with zero harsh chemicals or abrasives that could damage your furniture and void warranties on specific upholstered furniture.
Upholstery cleaning is serious business. It's not a job to be taken lightly. That's why, when it comes to professional couch cleaning, Zerorez® is the go-to company for residents and businesses in San Antonio. We have the experience and expertise to do the job correctly, using only your revolutionary upholstery cleaning method. So if you need upholstery cleaning services, don't hesitate to call Zerorez® San Antonio. We'll take care of everything for you.
Zerorez® San Antonio offers other services such as:
Upholstery cleaning

Furniture cleaning

Area rug cleaning

Hardwood floor cleaning

Pet odor treatment

Tile and grout cleaning

Granite cleaning

Air duct cleaning

Fabric protectant services
7266660440
Zerorez San Antonio
10415 Perrin Beitel, Suite 103-B, San Antonio, Texas 78217
Varied
Carpets Look Brand New!
Our carpets looks great. The technician came in and explained everything. All the stains are out and the carpets look brand new.

Hope Zemora, San Antonio, TX
Anonymous
7266660440
Zerorez San Antonio
10415 Perrin Beitel, Suite 103-B, San Antonio, Texas 78217
Varied
Could Not Be Happier!
Our tile and carpets were in dire need of a deep cleaning, and we could not be happier with the results. The discolored tile spots that we could never get rid of and carpet stains are gone! Would definitely have this service again in the future.

Janell Sosa, San Antonio, TX
Anonymous
7266660440
Zerorez San Antonio
10415 Perrin Beitel, Suite 103-B, San Antonio, Texas 78217
Varied
We Refuse to Use Anyone Else!
I am so happy that Zerorez has arrived in San Antonio! We'd used Zerorez exclusively in our previous home and won't use anyone else to clean our carpets and upholstery. No residue, no crunchy carpets, and professional, courteous staff. We have pets, and Zerorez is adept at addressing all the issues that accompany them.

Susan Becker, San Antonio, TX
Anonymous
The only choice for a true clean that lasts longer.
Zr Water™ and Unique Technology
Satisfaction Guaranteed We will clean a room for free and you decide.
We want to make sure your experience is as easy as possible. We will clean and test a small area of carpet for free and if you don't believe how well the process works, then you decide whether to continue with the rest of the service or not. No hassles and no worries.
No Soap Lingering to Attract Dirt.
Our Zr Water™ technology allows us to clean and refresh your surfaces without the use of detergents or harsh chemicals, which means your carpet stays cleaner longer, unlike other carpet cleaning San Antonio companies.
Your Surfaces Dry Fast with our Zr Process™.
The Zr Lifter® removes embedded debris (hair, soil, etc.) that a vacuum just can't remove. Our Zr Water™ is then applied to the carpet through our patented Zr Wand™ which performs a unique rinse on the carpet fibers (careful to not soak the carpet and pad). Our powerful zr Water™ not only outperforms many carpet cleaning chemicals but also removes detergents left behind by other cleaners (emulsifying soil and other debris). Thanks to our patented Zr Wand™ your carpets are also fast drying - we truly leave, Nothing but Clean™.
Platinum Certified by the Carpet and Rug Institute
Not only is this the highest approval rating possible from the Carpet and Rug Institute, Zerorez® is rated the #1 cleaning process in the nation by an independent testing laboratory. When we clean, there is Zero Residue® left behind.
We don't use harsh chemicals in our revolutionary cleaning process!
This "green" clean technology is a better clean than traditional methods, and leaves your surfaces with Zero Residue®!

Tile Cleaning San Antonio, TX
The biggest thing that sets Zerorez® apart from other tile cleaning companies is that our services are non-toxic, green, and environmentally friendly. Many traditional floor cleaning companies use soap, detergents, or harsh chemicals to remove dirt from the surface of your floor. Instead of using the standard and potentially harmful substances, Zerorez® San Antonio tile cleaning services use a unique and patented cleaning system and Zr Water® that acts as a detergent but without harsh chemicals. Now that sounds like the best grout cleaner!
Another thing that sets Zerorez® apart from other grout cleaning companies is that we leave you with a Residue Free® surface. When our Zr Water® goes into the floor's surface, it grabs the dirt out of the fibers and cracks without leaving behind residue. No Residue Means Cleaner Longer®!
Next time you think, "what is the best way to clean tile grout?" remember to call Zerorez® San Antonio. Getting your tile and grout cleaned like-new by Zerorez® will save you the time and money you would've spent replacing your tile and grout. Instead, we can make your old floors look new! Whatever your tile and grout cleaning needs may be, our experienced technicians are ready to tackle the project head-on, leaving you with exceptional customer service and pristine surfaces that will stay cleaner longer.
Stay Connected
Stay Connected with us to receive up-to-date information on special offers, promotions and tips to maintain a healthy, happy and clean home!
We respect the privacy of our users. Please review our
privacy policy
Professional Carpet Cleaning San Antonio, TX
At Zerorez®, we take pride in leaving nothing behind on your carpet that shouldn't be there! Our cleaning method isn't just healthier, but it also lasts longer than other professional carpet cleaning methods. That's The Zerorez Difference® and why we are the best carpet cleaner in San Antonio.
You have to feel The Zerorez Difference® to believe it.

Our eco-friendly, patented process has been proven to clean hard and soft surfaces at the highest levels possible. We do not use harsh chemicals or soaps, leaving No Residue® behind. No other cleaning method out-cleans Zerorez®.